Field of Dreams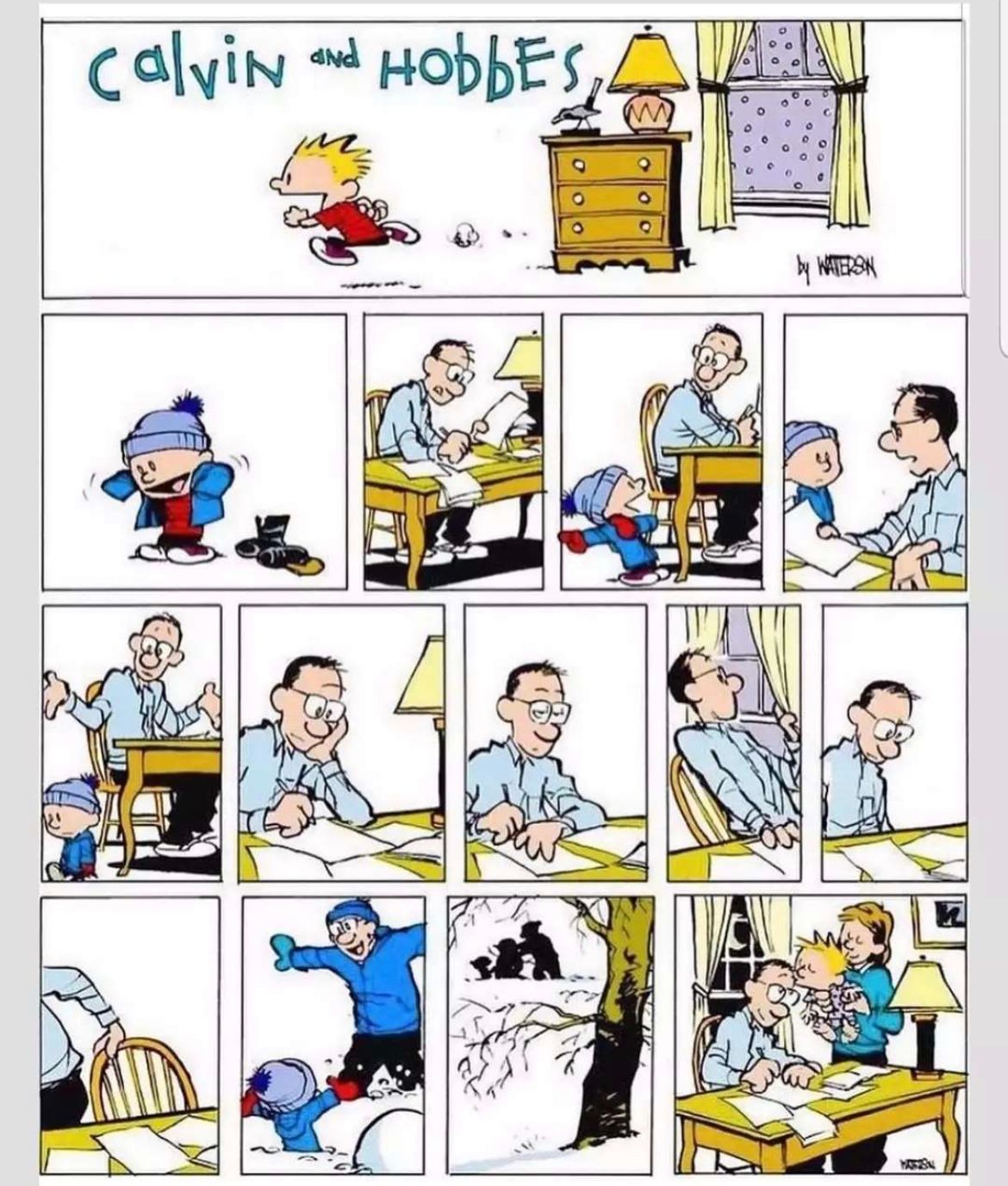 The Field of Dreams game and this Calvin and Hobbs timely comic strip made me write what I've dreaded writing about for almost a year. Many people like to rank this movie compared to other baseball movies but I think those folk have always missed the boat. For me, this movie was always about a father and his son, and they used baseball as the connection device. This column is about my Dad and the connection of baseball with his youngest son.
The Dodgers were one win away from winning their first World Championship since 1988 when my oldest brother called and told me that our Dad had fallen into a coma and was now in hospice care. I knew what that meant because my father had suffered from Dementia ever since our mother had died four years prior. He had a DNR (do not resuscitate) and there would be no trip to the hospital. There was nothing I could do, we were in the middle of Covid, my father was 650 Miles away, and so I talked to my brother a bit and then sat down and watched the Dodgers win the 2020 World Championship. I didn't cry for my father, but I also didn't celebrate the Dodger championship. I was happy for Kershaw and company along with all the Dodger fans I knew who finally got to feel the joy of their own Dodger championship, but I felt no joy myself.
My Dad died a few hours after the last out. I'll honestly admit, I was relieved he had passed away. Only those of us who have had to spend time with our parents and watch their once brilliant brains turn into Dementia mush could possibly understand this sentiment. He tried so hard to communicate and once in a while he succeeded but it was a rare win for a man who was one of the smartest men I'd ever know. In a life that is rarely fair, taking the mind away from those before the body is ready is one of the cruelest tricks that life will throw at us.
Captain Gurnee was stationed in Taiwan with his family in 1958 when things got dicey and all military families were evacuated. My mom had four sons, and was pregnant with me when we boarded a transport plane that would take us first to Guam, and eventually to Glendale, California. I was born on 11/24/1958, the first year the Dodgers played in Los Angeles. My Dad was sent to Korea, and would not meet his youngest son until he was two years old.
I have no idea if that impacted our relationship, but being the son of a career West Pointer wasn't easy. I was scared to death of my Dad, but also hated to be told what to do and that didn't make for a good combination. Our relationship was tenuous but we did have one thing in common. I don't know what came first, his love for baseball which made me love baseball, or did I fall in love with it on my own. What I do know is that our household was a baseball family and never stopped being one. My Dad created his own baseball dice game that we played every night. He taught me how to use a slide rule at the age of 8 to help create the numbers we'd use in the dice game. From the time I became sentient and could remember, baseball would forever be the most common thread in our family of seven.
As a military family we moved every year. From the time he came back from Korea we lived in El Paso, Boston (he taught ROTC at MIT) 3 moves in 3 years, Kansas, Heidelberg/Germany and finally Frankfurt Germany where we had our own field of dreams. I was 9 when we got to Frankfurt and we lived in a Duplex with a small backyard, but right behind our backyard was a baseball field and it was the most glorious thing I'd ever seen.
At that point I could barely catch a baseball, but every night my Dad would come home from work and he'd play catch with me until I got good enough that we didn't have to worry about the ball hitting me anymore because my glove hand finally got coordinated enough to actually catch the ball. Then four of his sons would go down to the field and he'd hit us fly balls until it got dark. Once a week I'd listen to the Armed Forces Baseball Game of the Week and I'd tell him everything that was happening. I doubt if he cared, but he acted like he did and when he smiled at me after I told him that Frank Howard had hit another home run, it meant the world to me.
He retired from the Army in 1970 and moved his family to Glendale, CA, and that once tenuous relationship had bloomed as he moved into the civilian sector and was able shed all of his military officer attitude that had bled into his parenting style. Over the next 50 years I couldn't have asked for a better father.
As I started playing organized baseball, whenever I did something good I would look to him and he was always there. Always there. Always there. When I needed him most he was there, because I wasn't always very good. At 13 no matter how much I practiced I was just good enough to be on the team. In my first game in Babe Ruth I dropped a fly ball and watched in horror as the winning run crossed the plate that cost us the game. I did it in front of all my friends and walked off the field with my Dad, hiding from everyone. I don't know what he said but he said enough that I was able to sleep that night. Later I got good, and gave him plenty of reasons to watch me, but it is easy to cheer when things are good, but what I'll always remember is the calm way he handled my worst moment.
Our Dodger baseball connection involved the following:
First Dodger game in 1970 we watched Don Sutton shut out the Pirates 1 – 0 on a Billy Grabarkewitz home run
Still in 1970 we sat in the bleachers and watched the Dodger played the Big Red Machine in a double header and when we got home, he was as red as a white boy from Wisconsin could possibly be.
In 1974, 1977, and 1978 we watched the Dodgers lose three world series
In 1980 he got us tickets to see the Dodgers lose the playoff game against the Astros, or we commonly called the Dave Goltz game.
Finally in 1981 we watched Fernando give us our elusive World Championship.
In 2004 I got my first season tickets and with my Dad retired we took in many games from 2004 – 2006.
In 2006 he moved to Ferndale, Ca, 650 miles away. For the first time in my life my Dad was not within a few miles of me. Over the next ten years I'd make that trip 3 – 4 times a year, using all of my vacation time to spend time with my parents. Finally in 2016 I retired myself and could see him anytime I wanted but because life is cruel that was when my Mom died, and his mind went with her. Nothing in your life will prepare you for the frustration of trying to communicate with someone who wants to but can't communicate. You will spend countless hours wondering if there is something there and they just can't express themselves or if they can't express themselves because there is nothing there. I don't regret thinking it would be a blessing for him if he would simply die, but he was as healthy as a horse and never got sick again until his body finally gave up.
I left a week after my dad died to help my brothers with his house and during the 650 mile trip I had a lot to dwell on. My father was a good man, easily a better man than myself, the kind of man we could use more of today. I could tell you many stories but I'll end with this one. My Dad had become a Banker, specializing in Trusts and in 1988 one of his co-workers opened the first Black owned bank in Los Angeles and asked my Dad to help him start the bank. I believe the bank was called Founders Bank but I'm not positive. My Dad would be the only White officer at the bank and was working there when the Rodney King riots broke out. His bank was right in the middle of it, but from what I understand the neighborhood made sure the bank was spared and also made sure my Dad got home safely. My Dad was 63 at the time this would be his last banking gig.
I won't say I'm all the things my father stood for but I can tell you that having watched him in action and heard stories that he wouldn't tell but others would he was this kind of man.
Treated everyone fairly
Respected woman as equals
Had so much integrity that it cost him his military career because he didn't play the game
Had so much integrity that when he retired he didn't use his connection from his Pentagon days to become a well paid lobbyist but instead took his family to Glendale, and started a new career as a bank trainee.
Raised five sons who never needed a gun to feel good about themselves
Raised five sons who never needed to kill animals to feel good about themselves
Raised five sons who have treated all the women in their life with respect, and let me tell you based on what I've seen, that is a big one.
None of this is adequate but I'll just close with this. Whenever I asked my Dad for a game of catch he always said yes and for that reason alone, Field of Dreams will make me weep for the rest of my life.